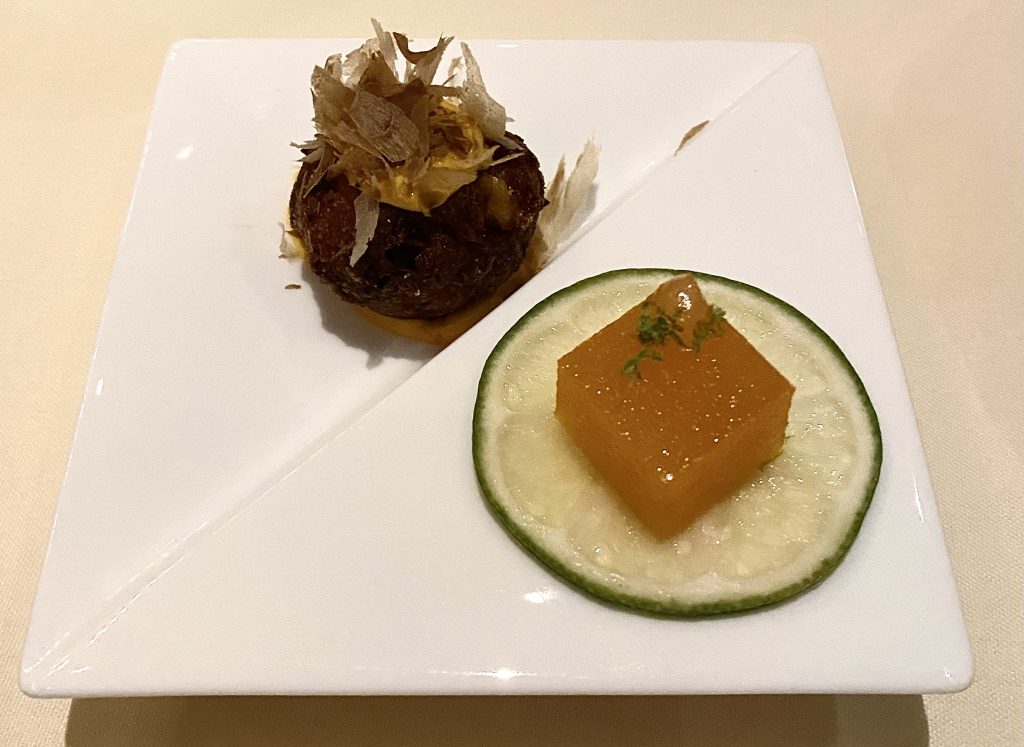 The first entrée was very interesting but flavorful the mixture of the tomato, goat cheese, beer focaccia had a unique taste A sip of wine brought a lot of flavor out of the first dish.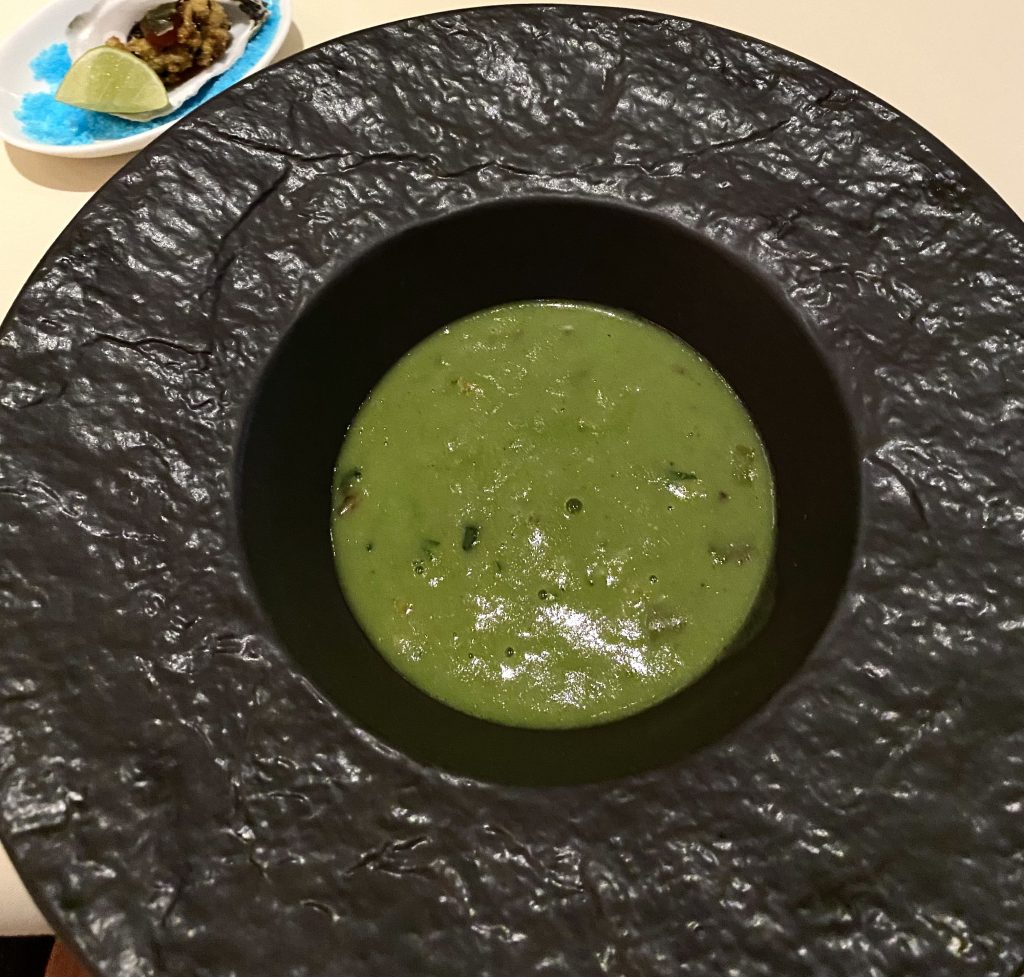 The third entrée is exquisite the Hawaiian dish is so much flavor and richness. It made you want to stand up and dance. The outstanding the crab and rice cooked well.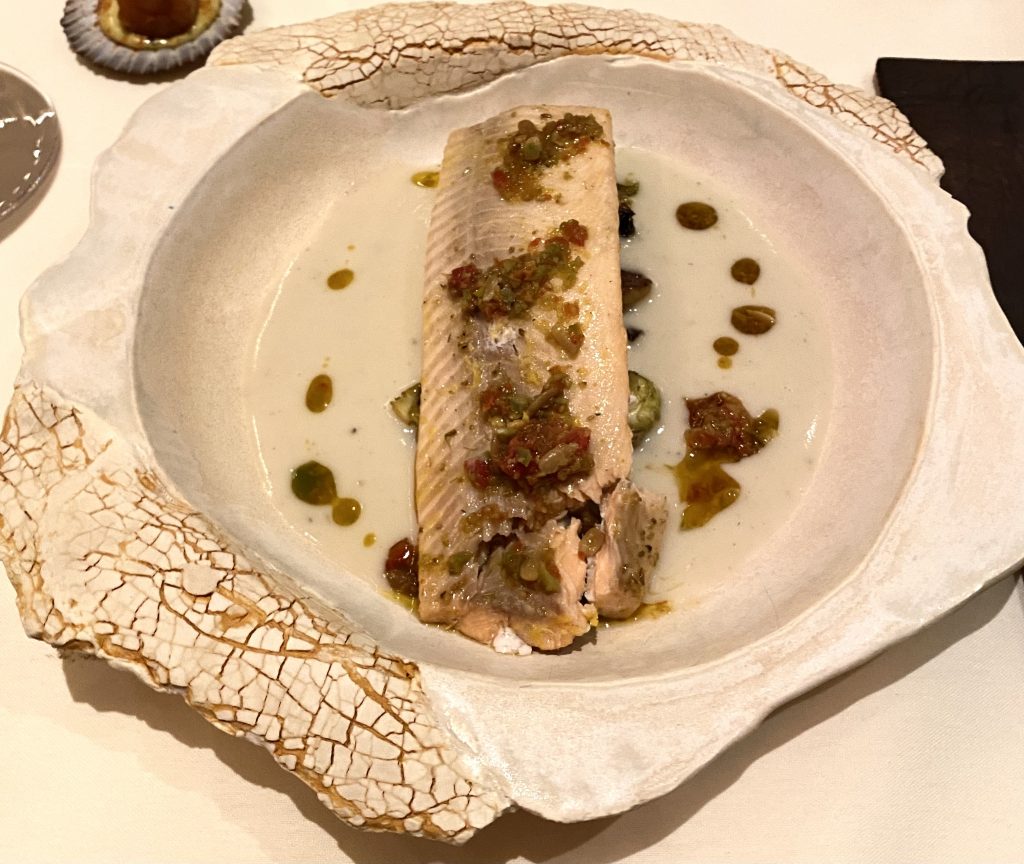 The trout was magnificent it was like my second time eating trout the dish was very rich in flavor. The sauce was clean and solid it was seasoned very well. I enjoyed every piece of the trout the aesthetic of the plate was art innovative design.
The dessert was minimal had great dulcet taste.
The mousse, biscuit, caramel and ice cream together was a smooth and dessert porn.
IZON food rates "Gabriel Kreuther" a nine for the service, and eight for the food. Also IZON food rate the design of the restaurant a nine. It felt like we were eating on the tv show west world.
Inspired by the timber homes of Alsace, reclaimed wood beams surround the dining room, creating an elegant yet relaxed setting for Chef Kreuther's inspired fare. From the curved, platinum-colored ceiling hang 42 crystal storks flying east toward Kreuther's native Strasbourg. Hand-painted wall coverings, one-of-a-kind art and cream-colored banquettes add sophistication and warmth to the room.
The experience warm, unique touches, handmade ceramics and comfortable service allow guests to enjoy an elevated yet approachable experience through our 3-course menu, our 4-course menu or Chef's Alsatian tasting menu.
The Main Dining Room is open for lunch on Thursdays and Fridays and for dinner Monday through Saturday.
Article by : John P Uzafe
location
41 W. 42nd Street,
New York, NY 10036
212-257-5826
Dining Hours of Operation:
LUNCH
Thursday – Friday
12:00 PM—1:45 PM
DINNER
Monday – Wednesday
5:00 PM—9:30 PM
Thursday – Saturday
5:00 PM—10:00 PM
Sunday
Closed