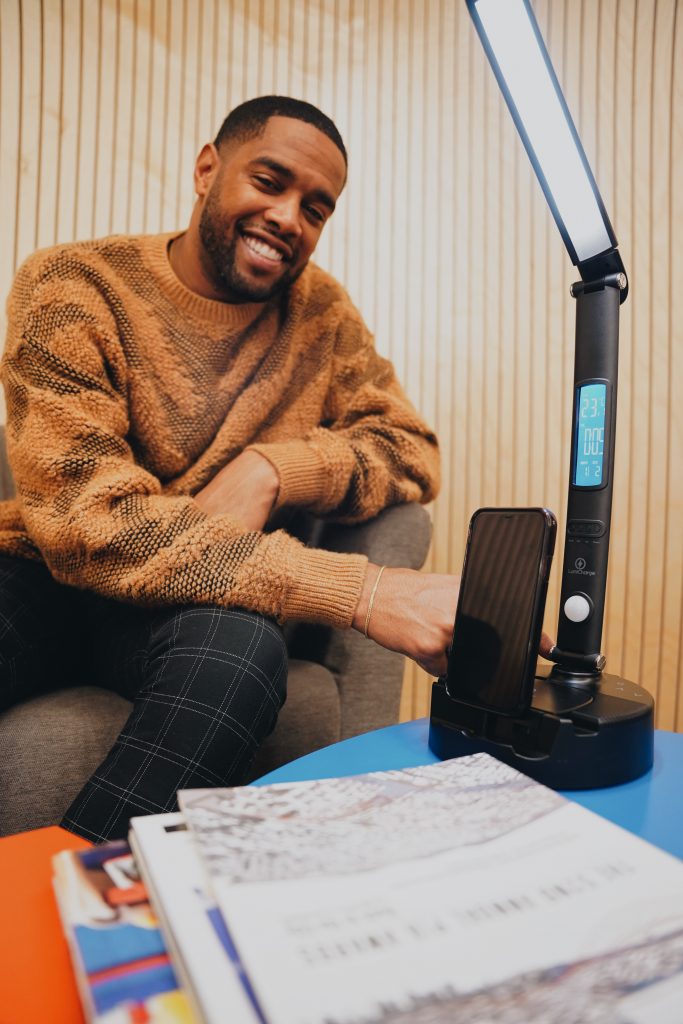 Lumicharge is the gift this holiday season. The sleek design and multipurpose functionalities make it perfect for anyone! As a writer with glasses, my sight needs change throughout my workday. I appreciate this LED lamp being so eye friendly, giving the ability to change the light from bright to low as needed. There is also an option to place the lamp far or close adjusting better suite different activities. The phone charger is another plus to this invention. The charger is smartphone or tablet compatible; it doesn't matter the phone brand. In addition to having universal compatibility, there is also an option to charge two devices at the same time.
Lumicharge in the picture on top is the lumi charge III -LED desk lamp with wireless charger ,Bluetooth Speaker, App-Controls
Features: Adjustable LED desk lamp with multiple Color modes and brightness levels
10 W wireless charger (adjustable charger surface) & dock charger with 1 USB port
Calendar display with date, time & temperature
Bluetooth application to control the calendar and the lights
Built-in Bluetooth Speaker
Mobile App to control Light mode , brightness levelsAuto Calendar sync with mobile App. No setting allowed
Lumi-Mini – 7 in 1 Multifunctional LED Desk Lamp with wireless charger
Features:
Foldable LED Desk Lamp with Multiple Color modes and brightness levels
10W wireless charger (adjustable charger surface) for your compatible wireless devices such as iPhone, Android & Airpods
Charge a second phone with a USB connector
Dimmable lights (white & Yellow)
Clock Display ,date time , temperature and alarm
Charge your phones vertically and Horizontally on the wireless charging pad.
Wireless charge Airpods or any wireless HeadPhones
Charge your Smart Watch with the Watch Holder
Save Space ,charger your phone, air pods, watch all at the same time.
Great college student Reading Desk Lamp for dorm room.
Lumicharge lamps also come with a screen including date, time, temperature and alarm. So if you want to slow down your phone use for a second but still need these features, Lumicharge is an easy replacement for that as well! Lumicharge lamps are the very first of its kind. This multipurpose lamps just make life a little easier, providing one option for multiple tech needs. The design of the lamp make it truly unisex and can fit with any decor layout. Lumicharge Lamps are one of the most ideal gifts this season. You can buy one for any students in your family, professionals, creatives, who need a better light to work with. Who ever you buy a Lumicharge Lamp for, make sure to buy another for yourself; it's only fair!
Click to shop now : https://thelumicharge.com/products/smart-desk-lamp-iphone-airpod-iwatch-clock-student-study-lamp
Photographer & Photo Editor : Iain Mahaffey
Athlete & Model: Brawley Chisholm
Creative Director : John Uzafe
Tags: