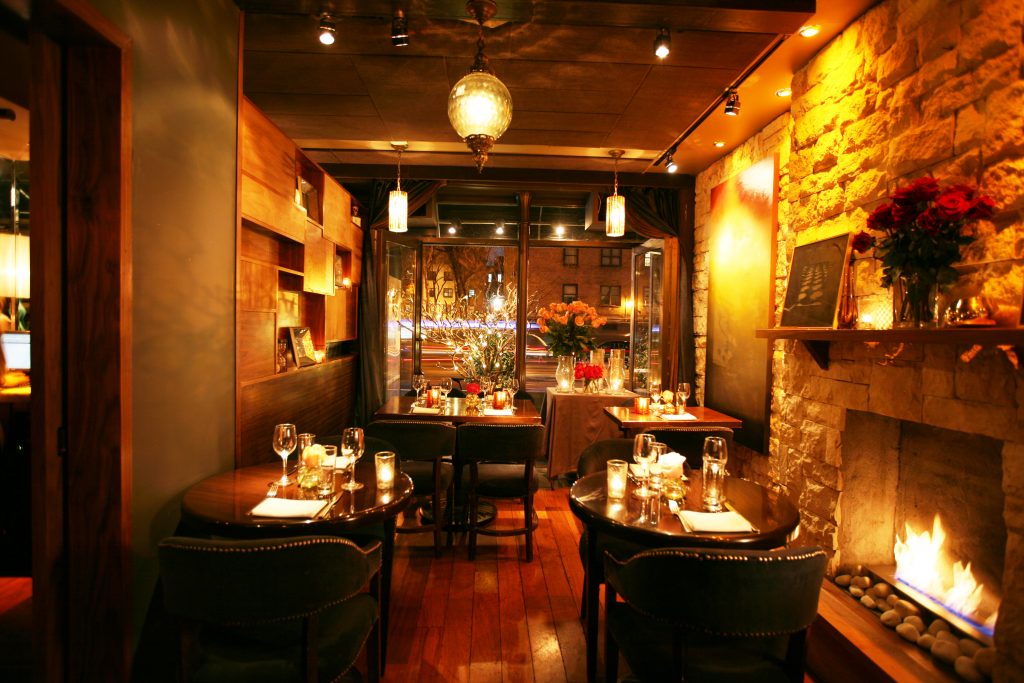 Salinas is a unique and vibrant award-winning restaurant in the heart of West Chelsea serving the full culinary experience of Spain. Opened on June 8th of 2010, Salinas specializes in both traditional and inventive tapas as well as regional main course dishes. Salinas has received several accolades, including a 2-star rating by the New York Times.
Nicolas Matar, Mary Catherine Mikula and Donald Mikula, Salinas' proprietors, have traveled extensively throughout Spain and were inspired by the country's lively culture, music, and cuisine. They joined forces with renowned chef Luis Bollo (Mediterra in Princeton, NJ and Meigas in New York City), to create a menu highlighting classic dishes from the country's Mediterranean coast.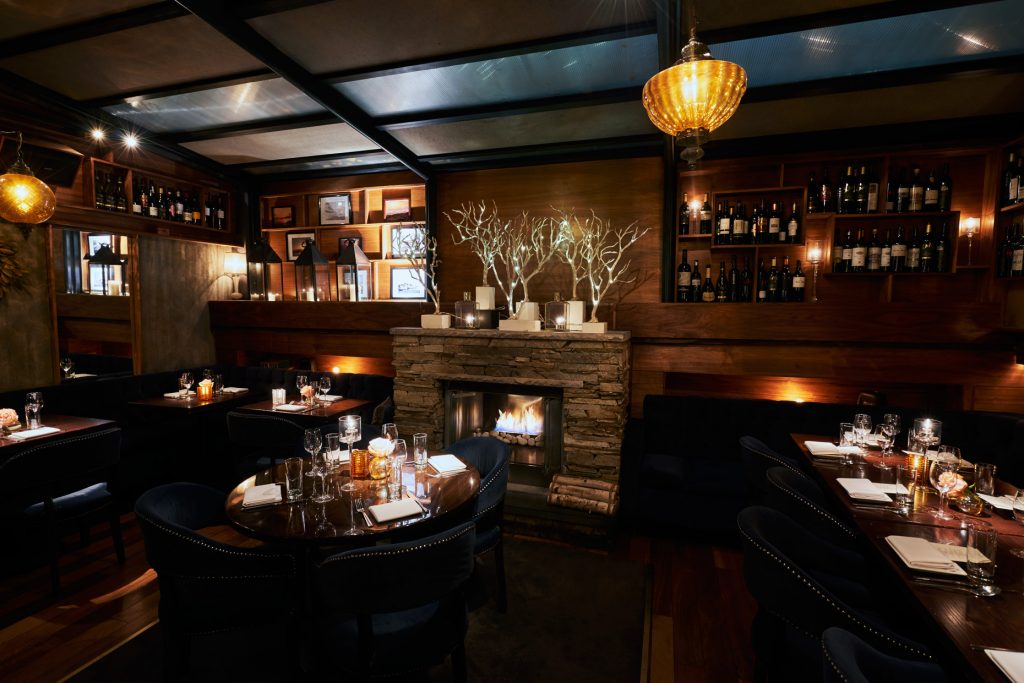 Chef Luis Bollo, is a co-owner of Salinas and native of San Sebastian in the heart of Basque Country. He focuses on traditional, rustic cooking to introduce lesser-known dishes from the regions of the Spanish Mediterranean. His early training in numerous Michelin star rated restaurants throughout Spain as well as extensive family recipes passed down through the generations, form the inspiration for Salinas cuisine.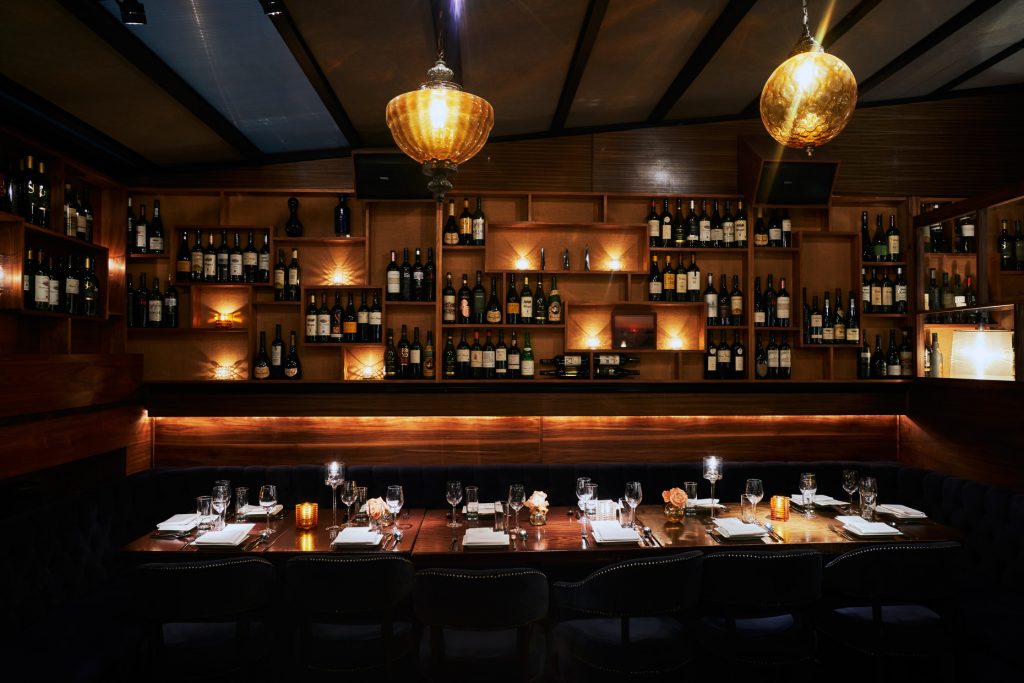 Upon entering Salinas one notices the warm and intimate décor. Designed by Mary Catherine and Donald Mikula, the stunning design features handcrafted furnishings and contemporary details that evoke the spirit of the Balearic Islands. The interior consists of plush velvet furnishing sculpted by a local artist, limestone-covered walls, and Brazilian walnut floors.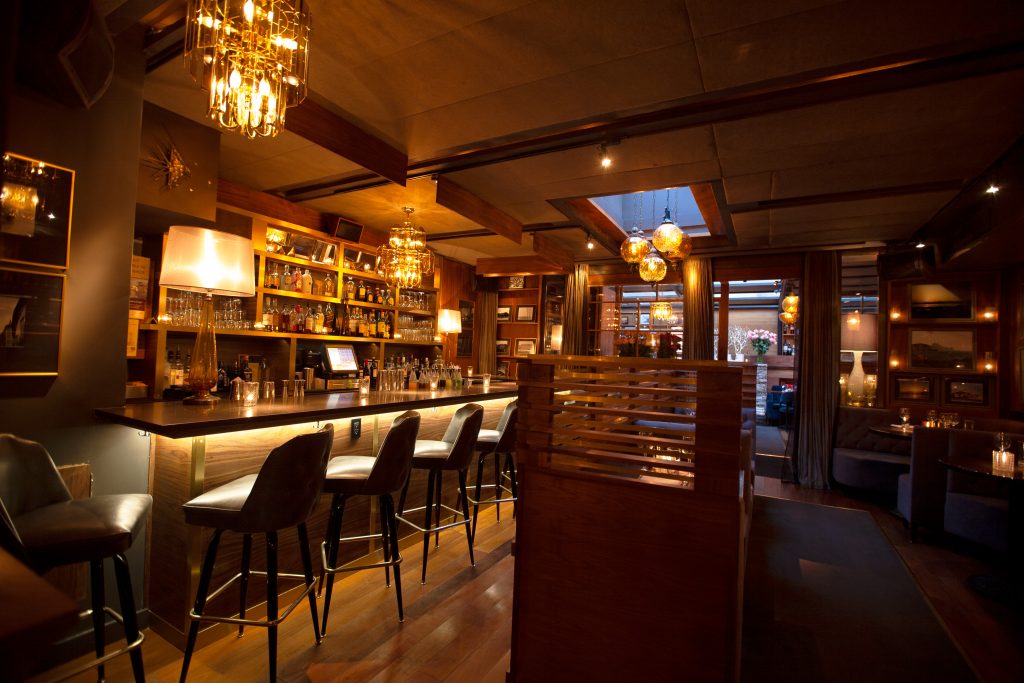 The restaurant is divided into three distinct spaces, a tapas lounge and bar, main dining room, and a garden with a retractable glass roof and a custom-made stone fireplace that offers a charming al fresco dining experience year-round. Adding a distinctive touch, beautiful fresh flowers are plentiful within the restaurant and meticulously maintained by the owners. Salinas' staff is committed to attentive service and providing warm, genuine hospitality to all of our guests.
When you enter Salinas you feel like you are inside a lounge that has been turned into a restaurant. You walk down a slim narrow hallway which opens up to the first room with a bar and two row of dining areas. The room was intimate and music was loud enough that conversations could only be heard within a close range. Throughout the night the DJ played a nifty mix between R&B, Latin, and Blues. We were sat at a table in the back of the garden room. The roof was closed due to rain but however it is opened on a good day.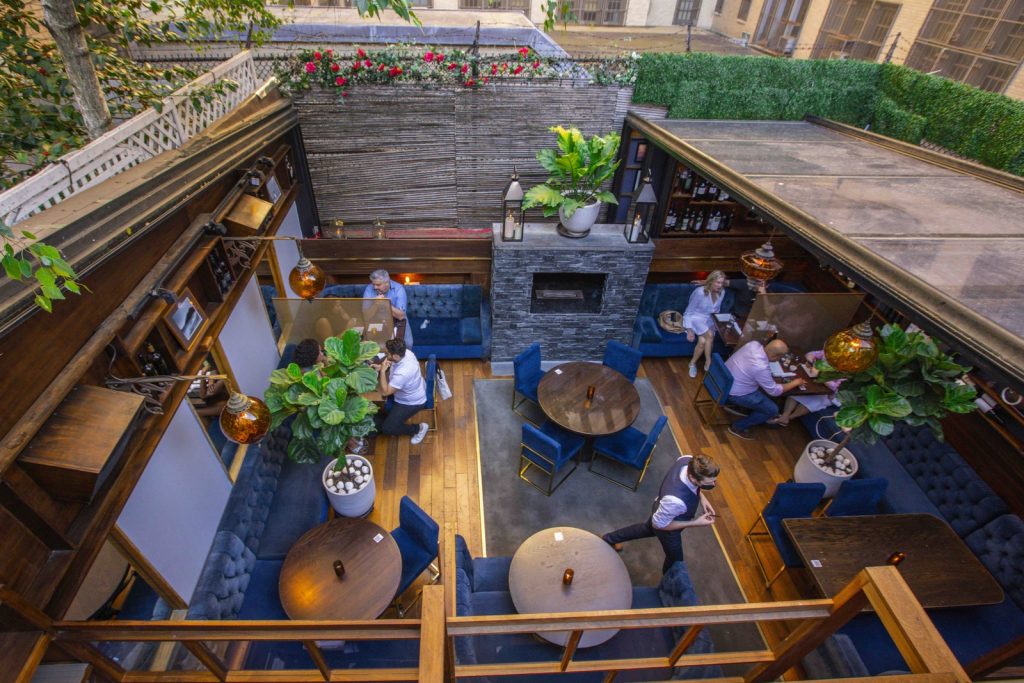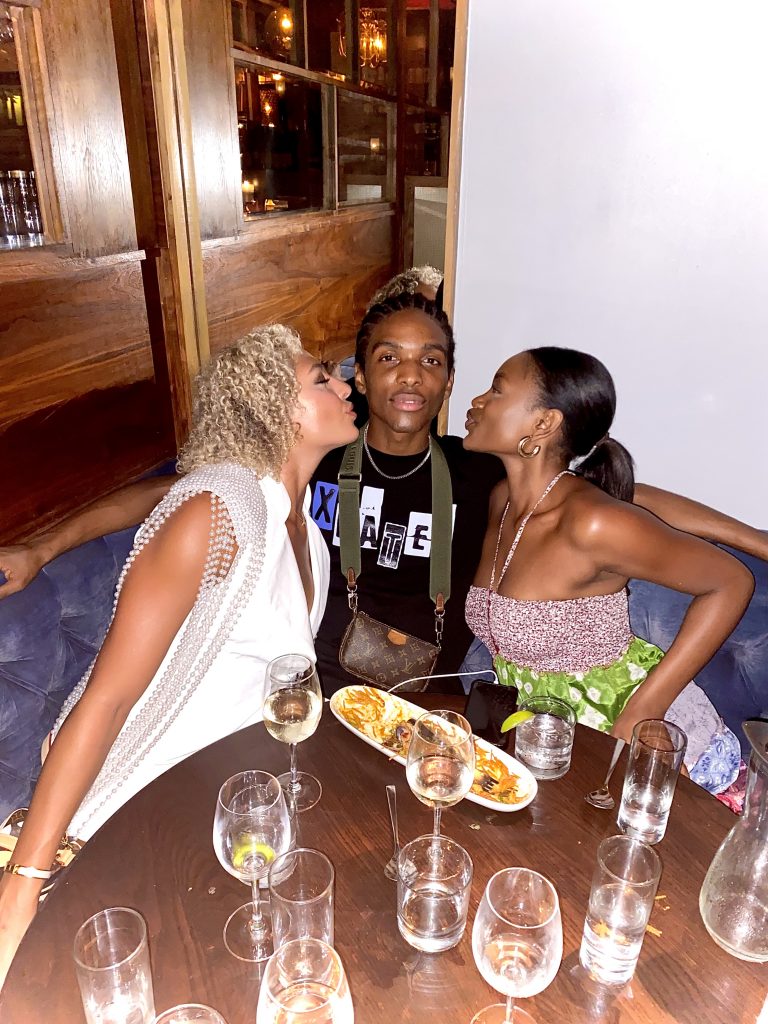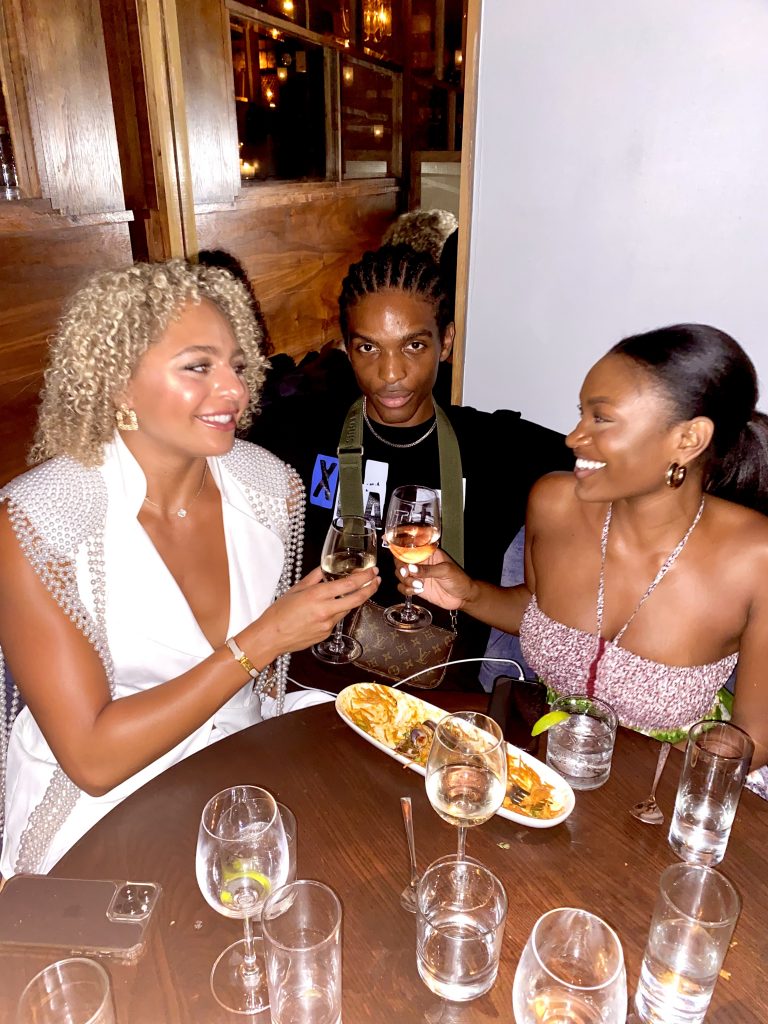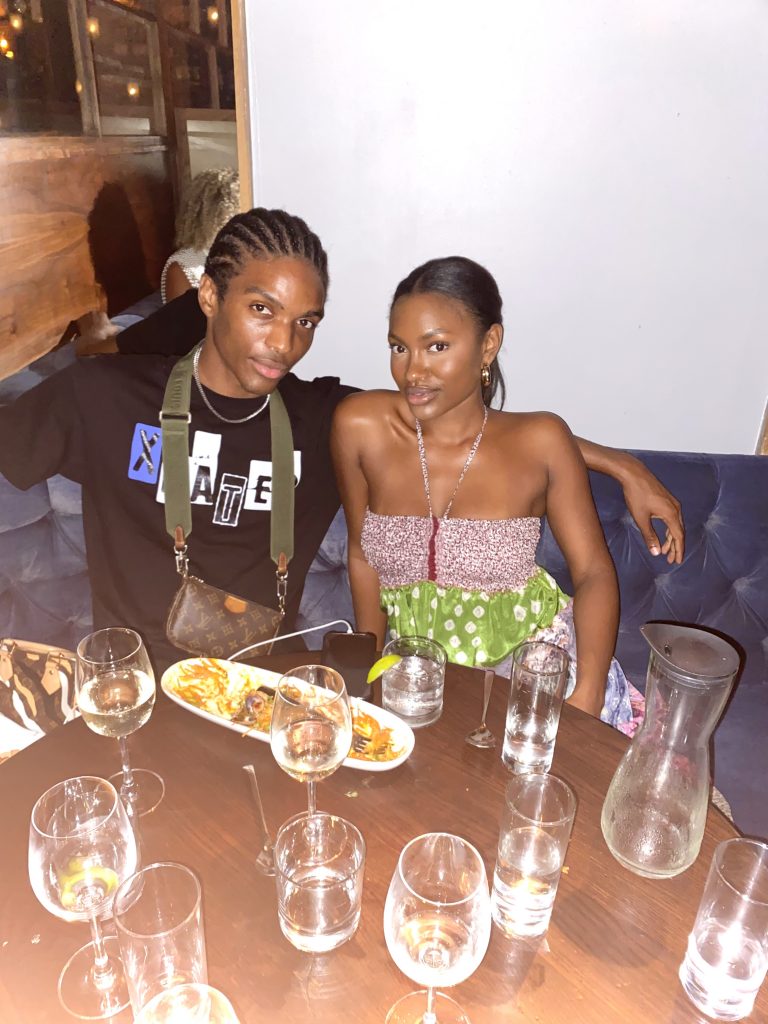 The garden was a dim and tables were lined against the corners, offering a very intimate vibe for our party. We started with bottle of still waters and a bottle of white wine. The vino was smooth and dry. We started with a selection of tapas, starting with the Bravas Con Huevas Marinas. The potatoes were crunchy and browned on the outside, paired with a generous amount spicy cream sauce. The Colifor Al Yogurt was decently flavorful and soft. Also, paired with a creamy yogurt sauce. The Croquetas were a specialty Tapa and was essentially a bite of queso. The dairy in these dishes made the tapas heavy. The Pan Tumaca and Tosta De Bacalao were bead heavy, which took away from other flavors.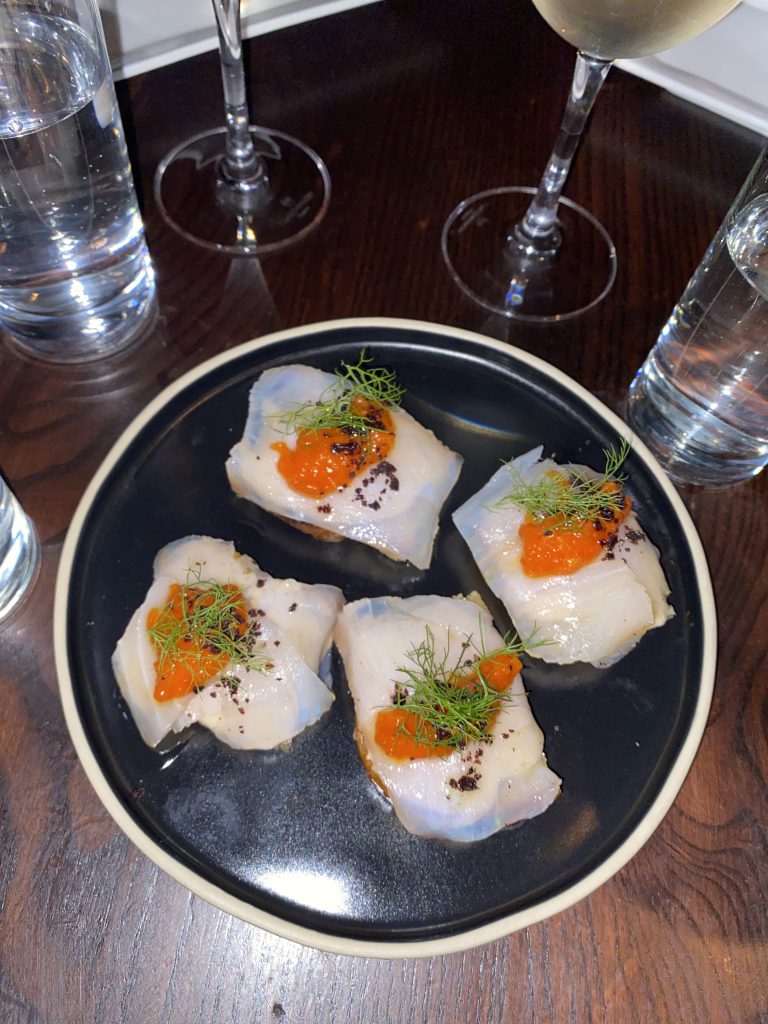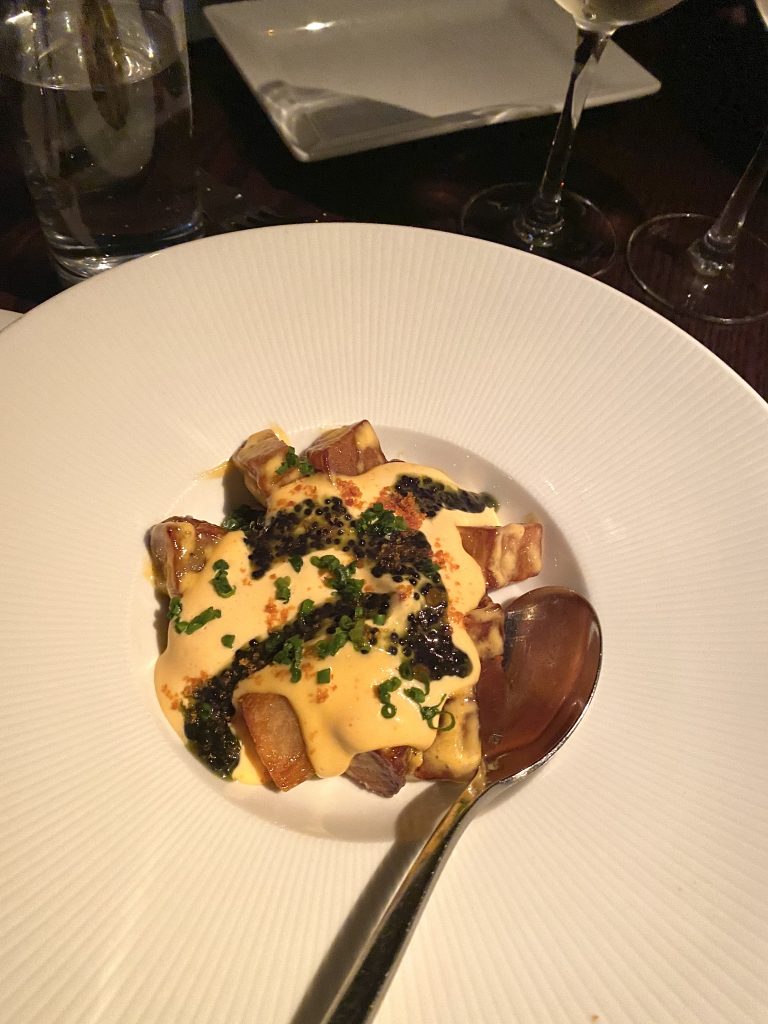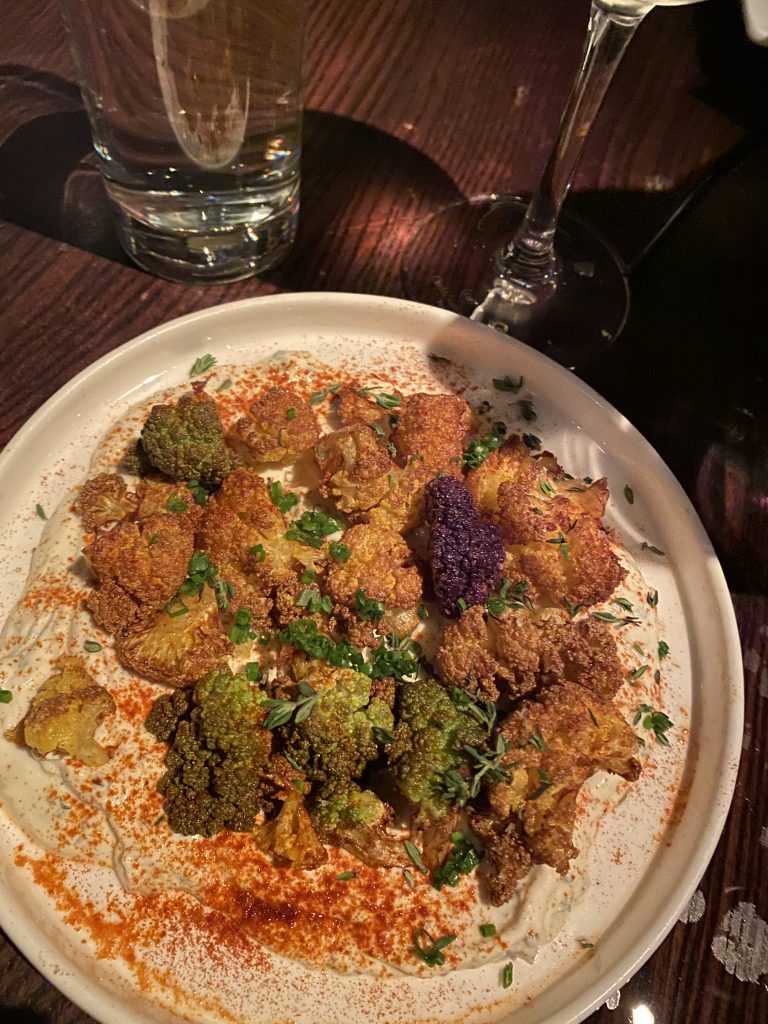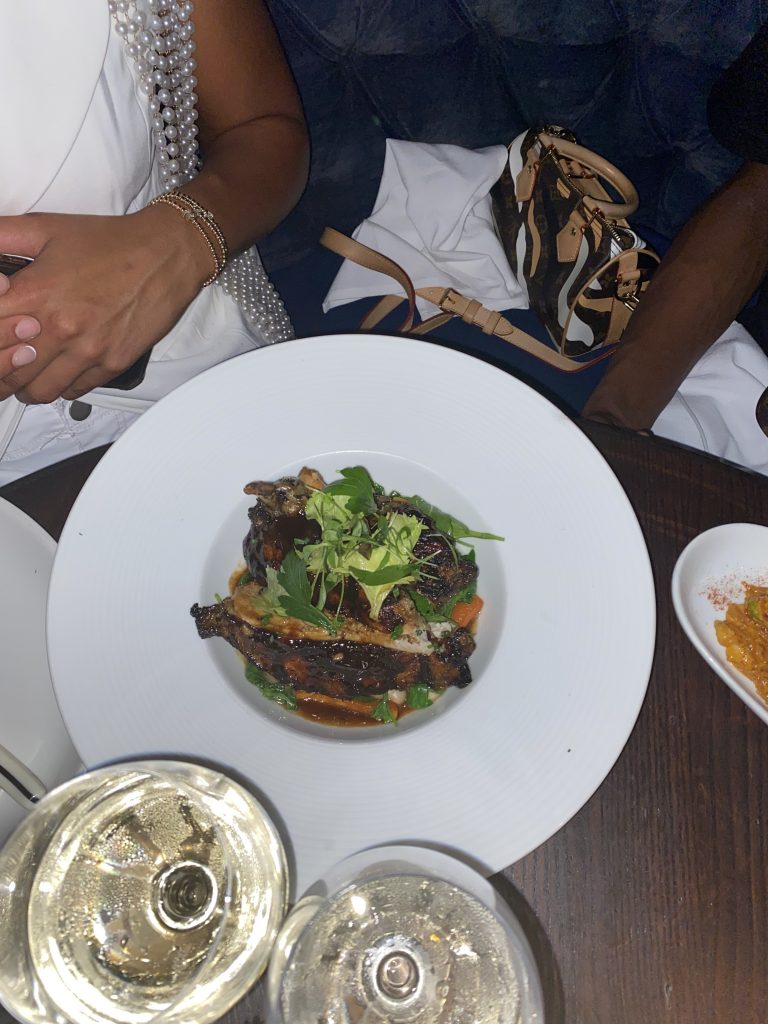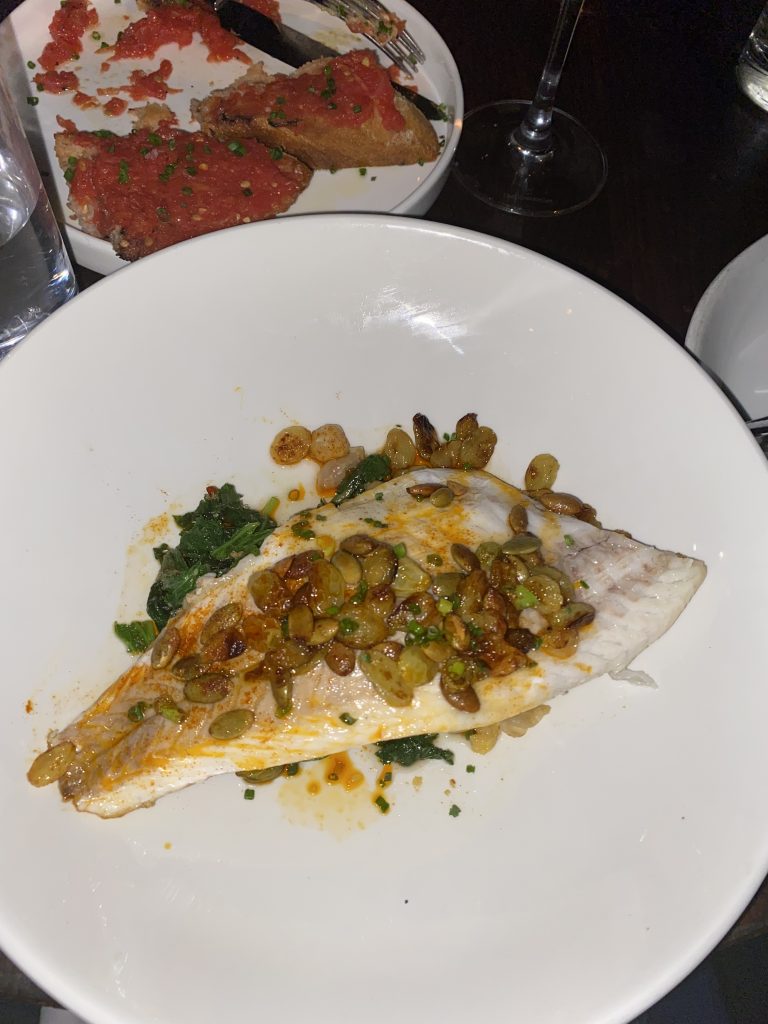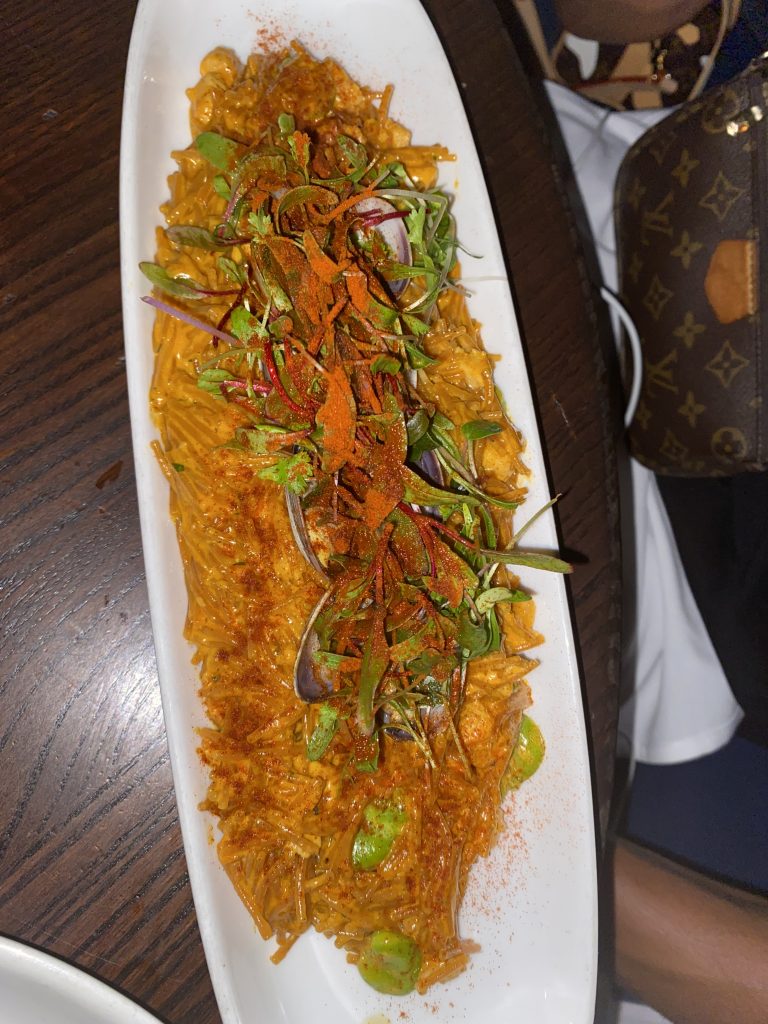 For entrees I had the Pollo Al Carbón. The chicken was easy to slice and juiced at the bite. My tongue was greeted with the sweetness from the forum cabernet vinegar glazee. The meat was sitting in a bed of delicious sautéed vegetables. However I was a bit full from the tapas to finish my meal. I tried a bite of the Lubina En Costra De Sal, a European bass. The fish was soft and offered mellow tastes from the saffron citrus infusion. Additionally I had a bite of the Rossejat Rápida, a pasta dish with multiple kinds of protein. From what I tried it was a hearty dish and I would recommend for a pasta lover to try. Throughout dinner, our waitress was very intentional and I never felt like I waiting on someone, or too bothered. We were reminded of the dishes when they were served and got notice of the kitchen and bar closing with plenty of time and opportunity to order.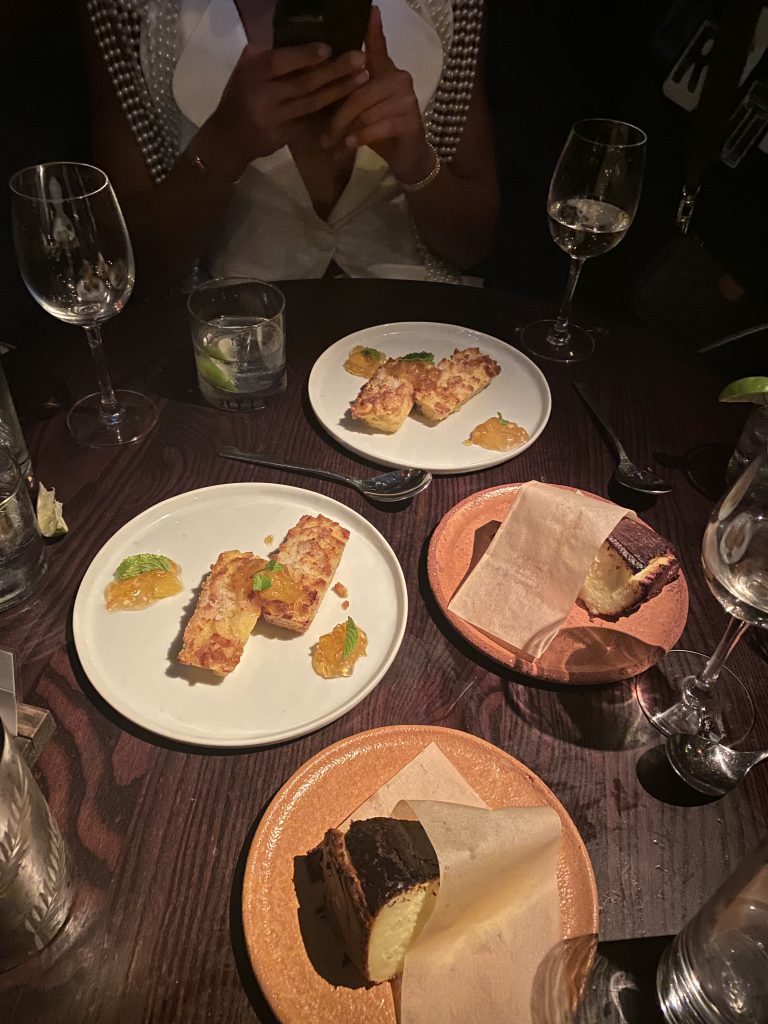 We finished our meal with two sets of dessert. They only had two choices, Pastel De Queso Vasco, a cheesecake, and Torrina, a bread budding. The cheesecake was fresh and light, unlike the cheese from the tapas. The dessert was surprisingly refreshing. The bread was filled with citrus fruits, making it very tangy. The fruit filling made the bread pudding a good pallet cleanser, and ending to a satisfying meal.
Article By: Jacey Hinton
Tags: