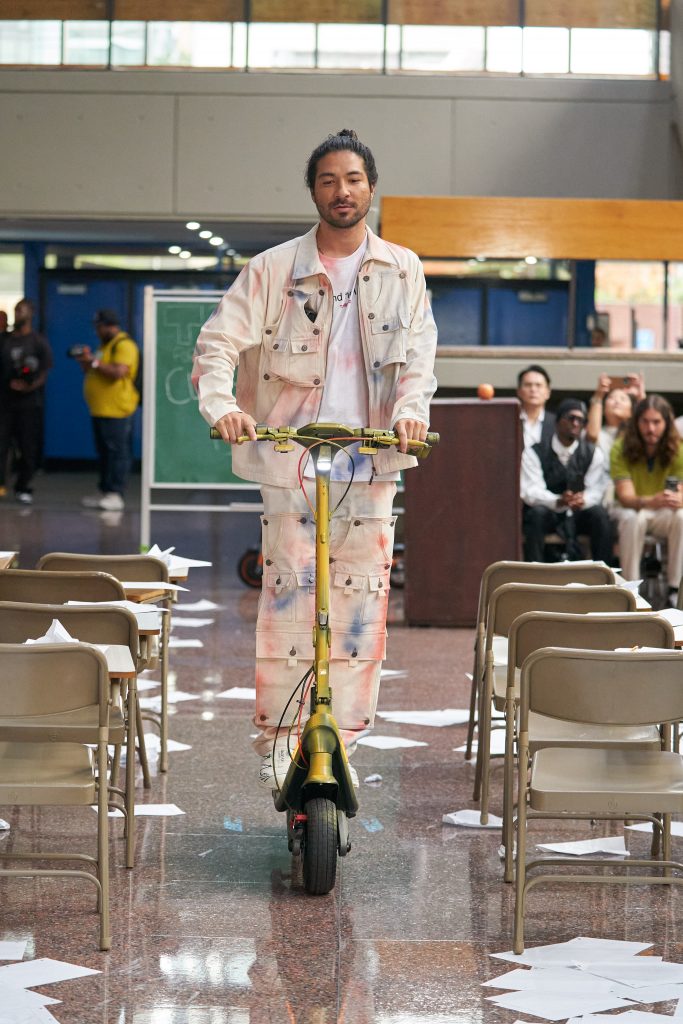 New York, NY (September 11, 2022) – New York, NY (September 11, 2022) – Segway partnered with streetwear designer Tommy Bogo for New York Fashion Week at LaGuardia High School of Performing Arts in Manhattan. The "last-mile" transportation electric vehicle company is merging innovation with fashion to drive home how much scooters have become a staple in a sustainable and urban lifestyle.
The show served as a time machine back into the halls in celebration of academia, the arts, the groups and communities, and the student body and classes that followed their passions. "For the Truant & the Fluent" reflected on the various characters and personalities in high school – from the jock to the artsy student –  and Segway's deep line-up of vehicles was able to compliment every persona.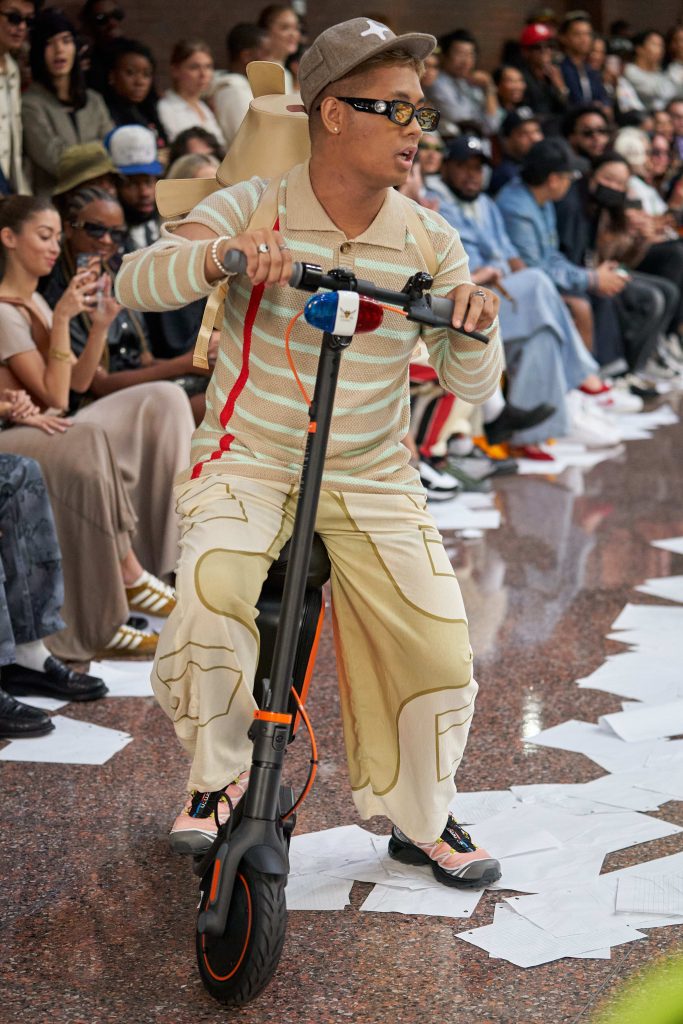 Integrating Segway scooters into the show was an organic collaboration. "Like Segway, sustainability sits at the core value of TOMBOGO''s men's fashion brand and often incorporates repurposed and environmentally friendly materials into their fashion looks and collections," said Alex Huang, SVP of Global Business at Segway.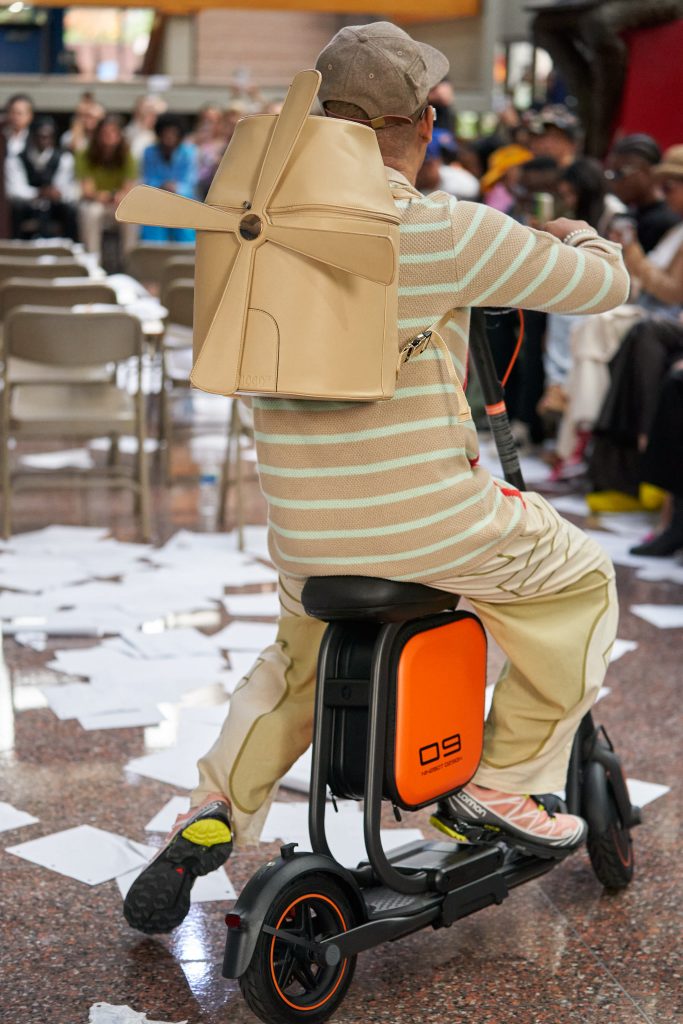 For the debut of his Fall 23 collection, Bogo created a rebellious classroom setting at LaGuardia High School of Performing Arts in Manhattan where models emerged on exclusive custom Segway scooters, rocking futuristic ensembles featuring varied patterns, textiles, and space-like backpack accessories.
For the show, Segway debuted the soon to-be-launched Segway-Ninebot P100S and P65, with self-healing all-season 10 inch tires for a lux commute; a Ninebot F40 with a seat attachment and storage pouch; and last but not least, a scene-stealing eMoped E110A. Also on hand was a custom-designed E110A and autonomous eScooter T on display, adding to the scenic elements of the space. The timing of the collaboration was kismet at the D40X with seat and bag, P100S and E110A launched in 2022.
Unisex ensembles were a major feature of this season's men's collection, pushing boundaries with beautiful men in long-fitted skirts and pants alike. Models scrolled down the runway at LaGuardia High on innovative Segway scooters, navigating the classroom setting created by the TomBogo creative team.
Notable guests included SMINO, Duckwrth, Isaiah Rashad, Paloma Ford, and Tiana Parkr.
Alex Huang, SVP of Global Sales at Segway, says, "[a]t Segway, our core mission is Simply Moving. How we choose to move people is through our technology: like self-balancing scooters, e-Kick Scooters, and e-Mopeds. Several of Segway's products are composed of magnesium-alloy, the most eco-friendly and sustainable metal in the world. This material is 100% recyclable and dissolves naturally without leaving a trace. Our newly launched Segway eMoped C80 is composed of 100% eco-friendly Polypropylene plastics and is perfect for daily commuting college students on the go. This system recoups energy to the battery to extend the range and take riders further!"
Data shows that electric scooter owners ride an average of 4 days per week and 7 miles per day. This translates into 1,456 miles per year and by riding an electric kickscooter you would reduce your carbon footprint by 1,318 lbs per year. By incorporating electric kickscooters in your daily commuting, you reduce emissions from transportation, the leading sector contributing to carbon pollution, in addition to improving public health and providing fuel and maintenance savings.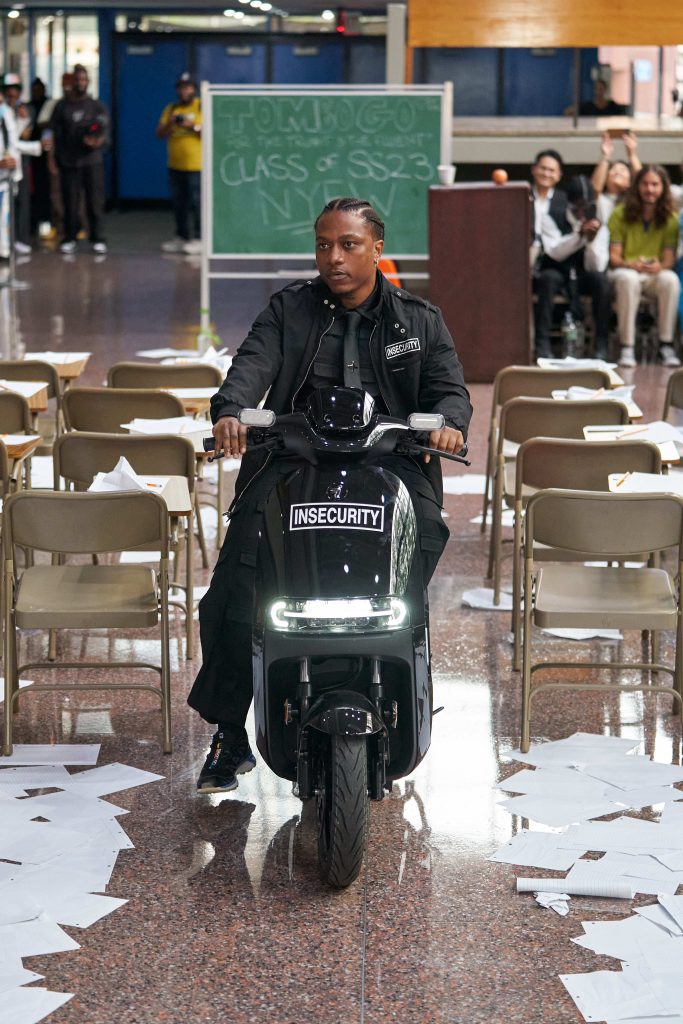 This year, Segway is also introducing their new e-Scooter E110A at New York Fashion Week. This state of the art e-Scooter differentiates itself with the smart RideyGo! System – a simple yet highly efficient user interface. The features include keyless airlock; seat sensors to detect if someone is sitting or riding the vehicle; an Attitude & Heading Sensing System with industry-leading 6-axis sensors to detect movements and send a notification via the user app; and aSegway developed battery containing over 20 smart protection and safety measures.
Tags: